Plastic mats to strengthen Land's End runway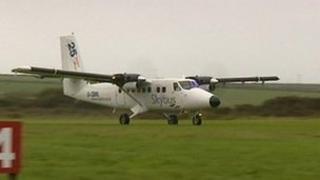 Plastic matting is to be installed over the grass surface of the Land's End runway to allow flights to resume between the Isles of Scilly.
Flights have been redirected to Newquay Airport since mid December due to heavy rain over the last month.
The Isles of Scilly Steam Ship Company's Skybus service said the matting would help to "reinforce the surface".
The plastic matting will be installed over the next few weeks.
The company said it was working with the Council of the Isles of Scilly on a longer term solution by securing the necessary money to pay for an upgrade to the runway.
After the withdrawal of the helicopter service from Penzance, Skybus has become the last link from Cornwall to the Isles of Scilly.
The islands, which have a population of 2,200, have flights six days a week in good weather. A passenger ferry, the Scillonian, only runs in the summer.
Mike Hicks, the chairman of the Council of the Isles of Scilly, said he was "already worried" about next winter.
He plans to meet with the Isles of Scilly Steamship Company to discuss the possibility of the major Scillonian re-fit being speeded up so the ferry can sail next Christmas.