Pet shop egg is a tropical bamboo shark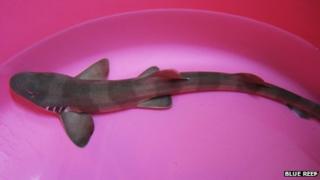 A mystery egg which was bought in a pet shop and hatched into a tropical shark has been donated to a Cornish attraction.
The shark was given to the Blue Reef aquarium after its owner from Plymouth realised it was outgrowing her home tank.
The bamboo shark is being looked after in the aquarium's quarantine area.
When it has been given a clean bill of health, aquarists plan to put it on public display.
Shark eggs
The bamboo sharks, which are capable of growing more than a metre in length, are usually found from the Indian Peninsula to northern Australia.
Lee Charnock from the aquarium said: "It's actually not that unusual for people to buy shark eggs in pet shops without actually knowing which species they are.
"There is... a real danger the shark will end up predating on any other creatures which it might share the tank with. The bamboo shark's diet consists of meaty foods, such as shrimp, crabs fish and squid."
The aquarium said they posed no threat to humans.
Although born with dark bands across their bodies these will gradually fade as they mature and adults are usually a light brown colour.
Bamboo sharks actually prefer shallow waters; however they regularly become stranded in rockpools during low tide.
To combat this they have the ability to survive for up to 12 hours out of water.