Scilly boss Philip Hygate's £80,000 early retirement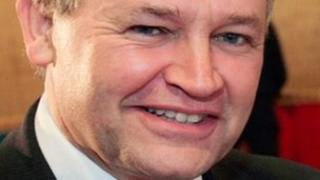 The suspended chief executive of the Council of the Isles of Scilly has taken early retirement.
Philip Hygate, who had been in charge of the council for 21 years, will leave his job with a year's pay of about £80,000.
He was suspended last October over allegations relating to "employment issues". He denied any wrongdoing.
In a council-issued statement, Mr Hygate said: "It has been a privilege to be part of such a special place."
"I wish Scilly the best for the future," he added.
'Longest-serving chiefs'
Mr Hygate was said to have been astonished last autumn when the council's chairman Mike Hicks said their working relationship had broken down irretrievably.
He strongly disagreed, but was suspended by the council while an investigation was carried out.
Negotiations over a severance package then began, the BBC understands, and a final agreement was signed on Friday.
Councillors and council staff have been informed.
The statement from the council said Mr Hygate had been one of the longest-serving local authority chief executives in the country.
"During Mr Hygate's tenure as chief executive, the council went through a period of significant modernisation and investment, particularly in respect of education, economic development and infrastructure," it said.
Mr Hicks thanked Mr Hygate for his long service and wished him well in the future.