Serco Cornwall GP staff told how to meet targets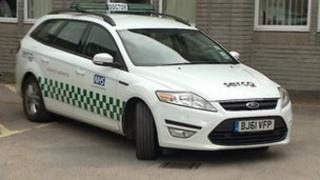 Cornwall's out-of-hours GP provider told staff how to take action to meet performance targets, a leaked memo suggests.
Serco staff were told in the memo how to make changes when dealing with people who might need an ambulance.
Serco said the memo was "wholly inaccurate and misleading" and was not aimed at meeting targets.
It followed "a completely open and transparent" change to stop non-emergency calls being directed to 999.
Doctor guidance urged
Serco's call-handling system lists questions for Serco staff to ask patients.
At the end of the call the system recommends the best course of action, which might be a call back from a doctor, an appointment or a 999 call to the ambulance service.
But the memo reminds staff that if it takes more than three minutes to close the call, the service fails one of its "key performance indicators".
It said if staff were waiting for guidance from a doctor or nurse, they could click back to a previous screen, "as this in essence stops the clock".
Serco said the memo followed the extra step of getting guidance which had been added to the system to stop non-emergency calls being directed to 999.
The addition had been made in consultation with the Cornwall and Isles of Scilly PCT, which commissions the service, and the ambulance service.
Serco said: "The internal briefing note that suggests that this is being done in order to somehow meet performance indicators and 'stop the clock' is both wholly inaccurate and misleading to people who do not work in our service.
"We also accept that it was written poorly.
"However, this does not affect the performance measurement system in our service, which tracks the time starting from completion of the clinical decision until the transfer to the Ambulance Service."
Serco, which has run the service since 2006, has a team of more than 180 doctors, 50 other clinicians and about 140 support staff.