Nick Clegg turns chef at Penwith College in Cornwall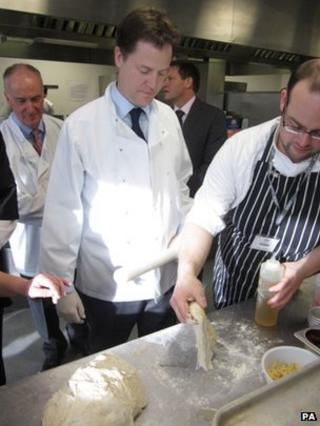 Deputy Prime Minister Nick Clegg donned chef whites to serve up his views on a youth apprenticeship scheme.
Mr Clegg was at Penwith College in Cornwall, to "highlight efforts" in giving young people work or training.
Youth Contracts give people between 18 and 24 the chance to "earn or learn" by giving payments to employers.
When Mr Clegg emerged he was greeted with a handful of boos and heckles over tuition fees while others asked to have their picture taken with him.
He said: "I think the country is going through a difficult time economically.
"We need to constantly make sure we are doing whatever we can, with the means available to us, to give young people the opportunities to get in to full-time work."
Earlier, he confirmed he would run again for parliament at the next election.