A30 dual carriageway plans go on show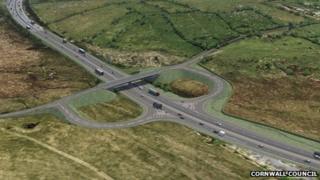 Plans for a £60m dual carriageway on the A30 trunk road in Cornwall have gone on show to the public.
Chancellor George Osborne gave Cornwall Council the go-ahead to carry out the work in his Autumn Statement.
It is hoped work on the 2.8 miles which runs from Temple to Higher Carblake will start in 2014 or 2015 and take a year to complete.
The public have the opportunity to see the exhibition plans at Blisland Village Hall on 10 and 11 January.
Bert Biscoe, Cornwall Council portfolio holder for transportation, highways and environment, said: "It is really important that people get involved in this consultation process and I look forward to meeting them at the exhibition.
"We would very much like to get as many people involved as possible - it's your moor, your road."
Engineers from Cormac have come up with the new design for the bottleneck. The cost will be shared between the Department for Transport and Cornwall Council.