Newquay Airport parking charges 'absolutely bonkers'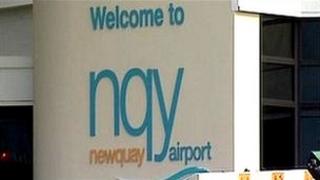 The idea to scrap free parking at Newquay Airport has been described as "absolutely bonkers" by the town's MP.
Newquay Airport said it was introducing a minimum charge of £1 from March for people picking up and dropping off passengers in the car parks.
Lib Dem MP Stephen Gilbert said he was concerned the road outside the airport could become "very dangerous" with people jumping out to avoid charges.
Managing director Al Titterington said "all other airports" were charging.
Mr Gilbert said: "You don't find people paying a pound to unload a bag to get on the train. It shouldn't be happening at Newquay Airport.
"The solution to this problem that the management at Newquay Airport have come up with is just absolutely bonkers."
Council subsidy
Mr Titterington said the change was partly in response to complaints from passengers who had been fined for overstaying a previous maximum five-minute waiting allowance.
He said: "We will be removing the free drop-off area and people will be required to park in the car parks, and we will be levying £1.
"All other airports are doing this. In Bristol, there is an express drop-off point with a charge of £1 for 20 minutes, and there is a similar charge in Exeter."
Mr Gilbert said in his view, there needed to be a "reinstatement of the five minute concession".
The airport receives an annual council subsidy of about £3.6m.