Cornwall parishes where holiday homes number over 40%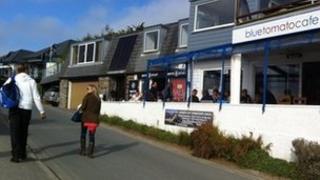 More than 40% the houses in some areas of Cornwall are second homes, according to council figures.
The parish of St Minver Lowlands near Rock has the highest proportion in the county, at 42.9%.
Councillor Andrew Wallis, who analysed the figures, wants second homes to require planning permission.
Last year Cornwall Council's cabinet voted to scrap a 10% council tax discount on second homes.
Tourism boost
Independent councillor Mr Wallis said: "I was quite staggered by the numbers in certain areas.
"I have never been against second homes.
"The region gets about £9bn from the tourist trade and second homes contribute quite a lot to that.
"What I am asking for is a balance."
He said changing the use of a house to a holiday let or second home should require planning permission in the same way as changing a house into a shop.
"All I am asking for is the same thing for holiday lets, which are basically a business, and second homes," he said.
"It is not going to stop them and I'm not trying to do that.
"But it would give us that extra control if an area is overpopulated by second homes and it's having an adverse effect on the community, for instance on the school."
The total number of second homes in Cornwall is 14,446 out of a housing stock of 260,077, according to the figures from Cornwall Council Community Intelligence.