Cornish sweet firm County Confectionery creates jobs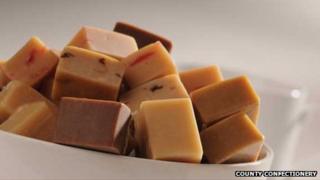 A family-owned sweet manufacturer in Cornwall is set to create 26 new jobs, it has been announced.
County Confectionery, which produces chocolates and fudges has secured funding to expand its commercial kitchen in St Ives.
The expansion will allow the company to create a second fudge production line, which it hopes will enable it to double its turnover.
County Confectionery currently employs 56 people.
As well as increasing its domestic market, the company wants to increase its export market from its current rate of 16% to 25%.
'Capacity' constraint
County Confectionery began life as a St Ives fudge shop, opened by Ken and Doreen Brian in 1981.
It moved into food production two years later and the Brian's sons David and Chris and grandson Mark are now involved in the business.
County Confectionery produces fudge and chocolate under its own Copperpot Originals brand, but mainly manufactures goods under a "private label" arrangement - where retailers add their own brand to the product.
Operations Director Chris Brian said the firm's growth was being constrained by a lack of capacity to produce its products rather than a lack of demand.
"This second fudge production line will significantly improve our manufacturing capacity and enable us to sell more product both at home and abroad," he said.
"We are creating jobs as a result of this move and that is positive for the local economy in Cornwall."