'Musical classrooms' as Downderry school hit by floods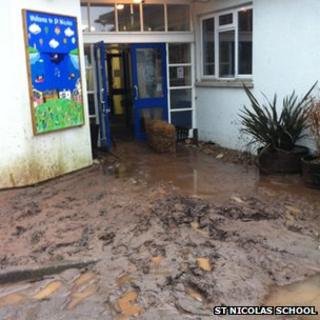 Children have returned to a flood-hit school in Cornwall after teachers, parents and governors spent the Christmas holidays cleaning up.
Flooding damaged four of the five classrooms at St Nicolas Church of England Primary School on 22 December.
Head teacher Lee Rounce said the school in Downderry, near Looe, had been due to open on Monday, but had welcomed pupils back on Wednesday.
The reception class is temporarily being taught at the local church.
Mr Rounce said: "We don't have any carpets so we're getting emergency carpets.
"Only one room was unaffected, so that became a storeroom and we are in a position where our youngest children are going to be taught in a church.
'Barren' school
"We've got a shipping storage container which is housing the contents of everything else.
"The contents of the library had to be boxed up before the books got soggy, and what condition they're in I dread to think.
"It's a little barren so they'll all be coming back to a slightly sparse looking school."
The school, which has more than 80 pupils, has had to "play a bit of musical classrooms" to start the term with the reception class temporarily relocating to St Nicolas Church over the road while repairs continue.
Mr Rounce said: "An awful lot of work has gone in over the holiday.
"I think everybody took Christmas Day off, but otherwise it's been all hands on deck stripping carpets and stripping furniture."
About 2ins (6cm) of water got into the building but most of the children's work had been stored on top of units and was not damaged.
Its car park is also having to undergo repairs after being hit by an estimated 80 tonnes of debris swept down a hill during the floods.
But Mr Rounce said it would be a challenge for staff to teach the curriculum without having most of their resources to hand.
He said: "It's going to be a while before we're back to normal and it's going to be a challenge for the teachers.
"They've got to think very carefully about which resources they're going to get out from the storage container."
Mr Rounce said there were currently no estimates on how long it would take for the repair work to be carried out.
"On a positive note the school will look fantastic when its done, but we've got a lot of grief and a lot of hurdles to jump through before we get to that point," he said.