Church lead thefts 'drop by 70%' in Cornwall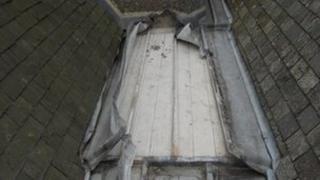 The number of lead thefts from Cornish churches has dropped by more than 70% in one year, the Diocese of Truro has revealed.
In 2012, three cases were reported compared to 14 in 2011, the diocese said.
It added the drop was down to greater vigilance by communities and a wider use of security systems.
Devon and Cornwall Police said a national campaign to make scrap dealers aware of illegal metal had also helped.
In 2011, the diocese said the thefts had caused damage estimated at £70,000.
David Watson, from the diocese, said that according to data from their insurance company the three claims from 2012 came to £5,459.
He added that the overall cost could double once policy excesses and other factors were taken into account.
Last year, a number of scrapyards in west and south-west England started asking for proof of ID from those wanting to sell metal.
Scrapyards that signed up to the scheme request a passport, national identity card or photo driving licence, as well as proof of address.
Its aim was to make it easier to trace stolen metal and restrict the market in which thieves can operate.
Devon and Cornwall Police said the scheme was working and was making scrap dealers more aware of the trade in illegal metal.