Newquay Zoo keepers undertake animal head count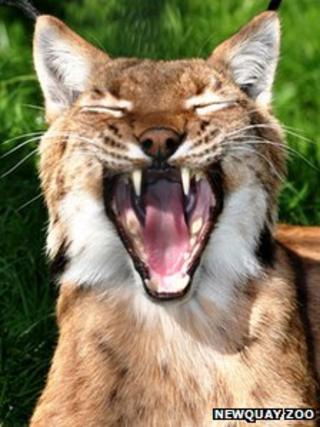 Newquay Zoo has been counting its animals as part of its annual "census" or stock take.
The zoo - which also keeps detailed records of all births, deaths, arrivals and departures - has to do a yearly head count as part of the local authority's licensing requirement.
There are about 600 animals made up of some 200 species of mammals, reptiles, amphibians and birds to count.
Zoo director Stewart Muir said 2012 was an "extremely good year" for the zoo.
'Tricky frogs'
"The animals have been quite prolific and we've bred two Carpathian lynx kittens for the first time," he told BBC News.
"The annual count is not a chore - it's quite enjoyable because it throws up all sorts of interesting statistics.
"It tells us things like whether we've had more male or females born, which helps us keep track of trends for our breeding programme."
Mr Muir said the smaller animals were "without doubt" the hardest to count, although there was provision to mark down some species, such as the harvest mice, as a "group".
"Our zebras are the easiest to count - we've got two and they're big.
"But the poison dart frogs are so small, and so well camouflaged, they're really quite tricky," he added.