Families evacuated from homes in St Austell fire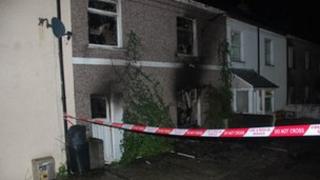 Some families in St Austell were forced to leave their homes overnight after a fire threatened to sweep through a row of terraced houses.
More than 50 firefighters were called to Holmbush Road at 03:00 GMT after a fire broke out in one of the houses.
The occupants of the house were out at the time. No-one from the neighbouring properties was injured.
Steve Halstead, the incident commander from Cornwall Fire and Rescue, said an investigation would begin later.
Mr Halstead said: "We're very pleased the fire has not spread across the roof. At first we thought that it might. We managed to stop it.
"We're doing our best for the residents to get them away to temporary accommodation. Then we will get the crews back and start an investigation."
The A390 at Holmbush Road was closed overnight.