New Year Honours for Cornish people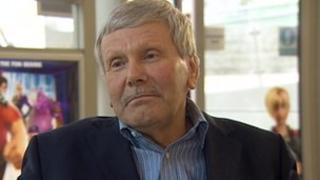 Community volunteers, London 2012 stars and people involved in entertainment in Cornwall have been recognised in the Queen's New Year Honours list.
Helen Glover, from Penzance, half of the rowing pair who won Team GB's first gold of the Olympics, becomes an MBE.
David Williams, 65, from Wadebridge, has been made an MBE for services to regional cinema.
Dorothy Fisher, 84, from Camborne, has been given a British Empire Medal (BEM) for her work in animal welfare.
Janet Madron, 64, from Penzance, has also been awarded a BEM for services to maritime safety.
Mr Williams is the managing director of WTW cinemas, a family business he has been involved with since 1966.
In 1996 WTW acquired the Plaza Cinema in Truro, which had closed. Following extensive refurbishment and reconstruction, the Plaza reopened in 1998.
Since then the cinema has hosted many regional premieres, from studio pictures to locally-produced works.
In St Austell the White River Cinema, which opened in 2008, became Cornwall's first new cinema in over 70 years and marked the first completed phase of the £75m St Austell town centre regeneration scheme.
Mr Williams said: "I was totally surprised. It's not something I ever expected. I'm a Cornishman and whatever we do, we want to do our best for Cornwall."
Mrs Fisher has given continuing service over 50 years to animal welfare in Cornwall through the Camborne Branch of the RSPCA.
The charity said she had raised hundreds of thousands of pounds and educated children in animal care and caring for the wider environment.
Mrs Fisher set up an envelope scheme in 1987, asking local people to contribute what they could on a monthly basis.
This scheme alone had raised £35,000 by 2005 and continues to run.
Mrs Fisher said: "As a child I joined an animal group. I've always wanted to be with animals. I always felt dedicated to fight for them as they can't fight for themselves."
Mrs Madron's husband was one of the crew who died in the Penlee lifeboat disaster on 19 December 1981. Since then she has been a central figure with the RNLI.
The RNLI said she had been selfless in consistently giving her time to support the crew and the families of the lifeboat.
Recently, she has felt able to help raise funds for the RNLI by speaking to groups about her experiences, and encouraging people to leave a legacy to the institution.
Mrs Madron said: "It's been a very big part of my life. It was a very difficult time but I carried on. I never expected to be awarded in this way."
Helen Glover, 26, won gold in the women's pair at London 2012 with her partner Heather Stanning, becoming the first British gold medal winners of the Games. Along with Stanning she is appointed MBE.
"If someone told me all this would happen to me in 2012 it would have been incredibly hard to believe," Glover said.
"Heather and I trained incredibly hard with the focus of being Olympic champions - to be Olympic champions with an MBE is something you don't think about.
"It is incredibly special because someone has deemed you worthy of it."
Paralympic gold medal swimmer Jonathan Fox, from St Stephen-in-Brannel, near St Austell, also becomes an MBE.
Other people in the county to have been recognised in the New Year Honours list include:
OBE
Carleen Kelemen, director, Convergence Partnership Office for Cornwall and the Isles of Scilly, for services to social justice and economic inclusion
MBE
Dr Melissa Hardie-Budden, for services to heritage and the arts in west Cornwall
Lugina Oates, for services to the community in west Cornwall
Kevin Penhale, customs officer, for services to border protection
BEM
Lynn Bartlett, for services to the community in Polruan, Cornwall
Alison Bevan, director, Penlee House, Penzance, for services to cultural heritage in Cornwall.
Amanda Kimmins, for services to the community of St Agnes
Pamela Richards, for services to the community in Foxhole
Barbara Snowling, for services to the community in Crafthole