Bude lifeguard trains Senegalese in life saving skills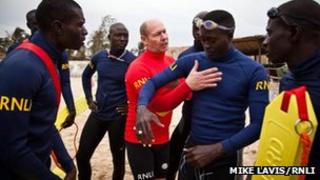 An RNLI Lifeguard manager for North Devon and Bude has returned from Senegal in Africa where he has been training local people in life guarding skills.
Vaughan Lawson from the RNLI was chosen for the trip because he speaks French.
Mr Vaughan was able to share life saving skills with 25 local people including firefighters.
Mr Lawson said there were up to 50 drownings a month and he felt "humbled" to be able to offer the training.
'Eye-opener'
Mr Lawson said: "'There is currently no lifeguard standard in Senegal so we were able to successfully train 25 lifeguards to the international lifeguard certificate level.
"The Senegalese lifeguards work in very difficult conditions with very little equipment, sharing one whistle between four across a stretch of beach.
"It was a real eye-opener to see how their lifeguard service is set up and made me realise how fortunate we are in the UK to have access to specialist equipment, which is vital for saving lives."
Steve Wills, the RNLI's International Development Manager, said: "This trip to Senegal is part of the RNLI's broader international development work, helping to tackle the global drowning epidemic. "
The RNLI has been stepping-up its international training since 2011, to help reduce the estimated 1.2m drownings that occur around the world each year.
Mr Vaughan said: "'The lifeguards there are amongst the most highly motivated I've ever come across, they're very hardworking and diligent.
"It was a very rewarding and humbling experience and a very worthwhile feeling that we've been able to help."