Mevagissey pub landlord quits job after repeated flooding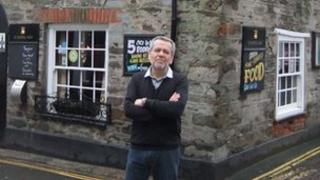 A pub landlord who has been flooded 12 times in 12 weeks has handed in his notice.
Tony Ginn, who took over the Ship Inn in Mevagissey in October, said he will be leaving the pub at the start of the new year.
He said he did not think he could continue financially through the winter.
Clearing up is continuing across Cornwall after 170 properties were flooded in the lead up to Christmas.
'I've had enough'
Mr Ginn said: "We've been very unlucky. I can't trade like this. Financially I don't think I could last the winter. The last thing I want to do is lose all my money.
"It's now flooded 12 times. We've had five or six really bad ones. I've had enough.
"It's hard trading in the winter in Cornwall. It's hard to build a reputation for a pub when this is happening so often."
The landlord said he had been warned locally to expect a couple of flooding incidents annually.
Mr Ginn said he had lost £10,000 in sales alone, having to pay staff on top of that to help out with the cleaning up following the floods.
Melanie Hamilton, who works in the pub said: "It's horrendous. You're losing trade. People don't want to come in when there's muck floating about.
"I don't know what's going to happen. We don't know if we're going to have a job in the new year."
The pub is owned by St Austell Brewery. It is now advertising the tenancy for the Ship Inn on its website.
The pub also has five en-suite bedrooms.