Heligan pineapples 'cost £1,000 each'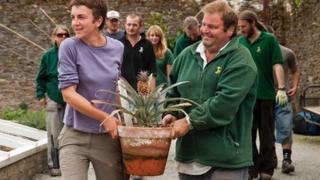 Horticulturalists have put seven years and thousands of hours into growing pineapples in a Victorian greenhouse.
The Lost Gardens of Heligan reckon the pineapples would be worth £1,000 each if they took into account the hours of work that have gone in to growing them.
But they are not for sale, and will be cut up and given to the workers at the attraction near Mevagissey.
The pineapples were grown in a Victorian-style greenhouse, with frequent changes of fresh horse manure.
A Heligan spokesman said: "Pineapples are a very labour intensive fruit to grow.
"With the man hours it has taken to look after the pineapple, transport costs of manure, maintenance of the pineapple pits and other little bits and pieces, each pineapple would probably cost us in excess of £1,000.
"Now that we have learned the correct Victorian techniques, it's a really rewarding process for our gardeners and visitors alike."