Cornish fishermen criticise new haddock quota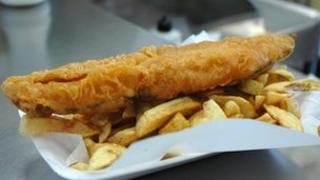 A reduction in haddock in the latest EU fish quotas deal will cause real problems, according to Cornish fishermen.
Paul Trebilcock, the chief executive of the Cornish Fish Producers Organisation, said there was plenty of haddock around.
He argues smaller quotas could lead to a real problem of discards.
Fisheries minister Richard Benyon said the new quota deal was "good for the fishing industry".
'Real disappointment'
Mr Trebilcock said: "We've seen a reduction of 15% in the haddock quota.
"Given the abundance of haddock on the fishing ground it's quite unfathomable for local fishermen.
"It's very important that we have get a level of quota that matches the fish on the ground. The haddock quota causes a headache. At some point we're going to see the discarding of haddock which is not what we want."
Mr Trebilcock said the haddock quota was a "real disappointment".
The issue of cod catch levels next year remained unresolved, pending EU fish talks with Norway in January.
It means the threat of a 20% reduction in cod quotas for 2013 is still on the table.
Mr Benyon said: "The current Cod Recovery Plan has failed to deliver. It was one of my priorities to ensure that days at sea for fishermen would remain the same next year and that is exactly what has been achieved."