PM will have Isles of Scilly helicopter meeting 'if necessary'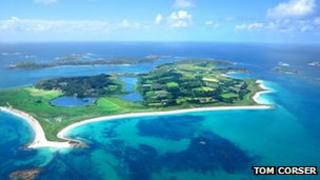 Prime Minister David Cameron is prepared to meet residents of the Isles of Scilly if he is needed to help secure a new helicopter service from Cornwall, he told the House of Commons.
British International Helicopters (BIH) stopped its service on 31 October.
St Ives Liberal Democrat MP Andrew George said it had hit islanders, medical services and the economy,
Mr Cameron said he recognised transport links were "vital" and would take part in a meeting "if necessary".
'Lifeline service'
BIH stopped its year-round service linking the islands, some 28 miles (45km) south-west of Cornwall, after running into financial problems.
It blamed falling passenger numbers and rising costs.
A ferry, the Scillonian, runs for only seven months a year; and the only other link, the Skybus plane service, which flies from Land's End Airport and Newquay in Cornwall, is weather-dependent. Neither service is subsidised.
Money to subsidise a helicopter link was ruled out by Transport Minister Norman Baker in October.
Speaking in the Commons, Mr George said the closure of the "lifeline helicopter service" had presented "very specific challenges to islanders, to medical services and to the economy".
He said: "Local people and other stakeholders are working together to find solutions.
"Would the prime minister be prepared to meet a small delegation of islanders and myself in order to explore what encouragement and assistance the government can provide to islanders in this, their hour of desperate need?"
David Cameron said: "Clearly proper transport links are absolutely vital.
"I understand other providers are looking to fill the gaps left by the helicopter service.
"This will provide a long-term, most sustainable option, rather than government subsidy. But obviously we have to look at all the options.
"This is a part of our country that needs to be connected to the mainland.
"If it's necessary to have a meeting, then of course I will."