Skybus flights to Scilly continue from Newquay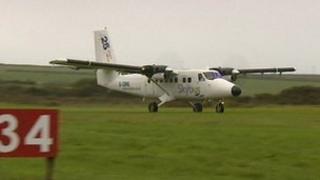 Skybus flights to the Isles of Scilly will not fly from Land's End until 27 December.
Flights from Land's End Airport are to be transferred to Newquay Cornwall Airport until Christmas Eve.
A company spokesman said the decision follows the recent spells of prolonged heavy rain which have impacted on operations at Land's End.
Police are reporting hazardous driving conditions in south east Cornwall as a result of heavy rain overnight.
Amber warning
The road surface on the A388 between Callington and the Carkeel roundabout in Saltash is in a poor condition because of a fuel spillage.
An accident on the A390 between the Two Trees Road junction in Lostwithiel and the B3359 junction in Braddock was partially blocked earlier because of an accident involving two vehicles.
A Land's End Airport spokesman said the decision to transfer flights to Newquay had been made in light of the severe weather warnings from the Met Office.
The Met Office has Amber warnings in place across Devon and Cornwall with up to 60mm (2.5 ins) of rain expected by Thursday lunchtime.