Cornwall school bus crash leaves driver injured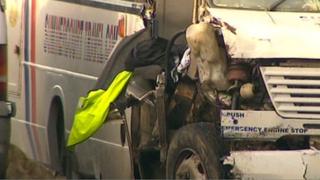 A school bus carrying 11 children has crashed in Cornwall, leaving the driver injured.
The children, from Wadebridge School, were treated for shock following the collision with a van near the Royal Cornwall Showground at 08:30 GMT.
The driver, whose condition is not life threatening, was taken to the Royal Cornwall Hospital by air ambulance.
Another person on the bus was also injured and a person in the car suffered minor injuries.
Wadebridge School has declined to comment on the crash and the bus owner Summercourt Travel is yet to comment.