Land's End Airport reopens after runway cleared for flights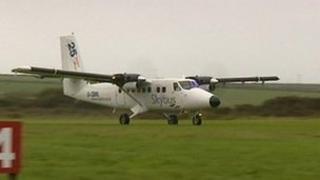 Land's End Airport in Cornwall has reopened after its runway was declared usable.
Skybus, which provides flights from the airport to the Isles of Scilly as well as scenic flights, closed the grass runway on Friday after heavy rain waterlogged it.
All passengers were transported to Newquay Airport for flights while the airfield was closed.
Skybus planes fly to the islands six days a week in good weather.