Scilly school Ofsted verdict 'delayed until other reports finished'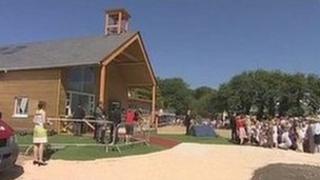 An Ofsted report into the Five Islands School on the Isles of Scilly will not be issued until other investigations are completed, the BBC understands.
Reports to be finalised include the publishing of an investigation into former head Bryce Wilby, who denies financial irregularities allegations.
The Department for Education (DfE) said the Ofsted report should be issued within 25 days.
The school, on St Mary's, has about 50 staff and 270 pupils aged three to 16.
Ofsted inspectors had first visited the school in November, quietly informing senior staff and governors that Five Islands was "good with outstanding qualities".
However, the DfE contacted Ofsted, advising a second and closer look at governance and management, meaning inspectors returned.
Mr Wilby was suspended in May after allegations were made by whistle-blowers.
He has said he has done nothing wrong and that he can prove the allegations are unfounded.
The report into his suspension, by auditors from neighbouring Cornwall Council, is currently only allowed to be read by some island councillors and school governors.
Lawyers for the Isles of Scilly Council are said to want more investigations into some aspects of it.
Academy ultimatum
A separate report has been commissioned by the governors to assess the mood of staff.
Another report is currently being compiled into the suspension of another teacher.
Education Secretary Michael Gove insists any school not deemed to be "good" or "outstanding" has to become an academy.