Woman's depression after hysterectomy pregnancy error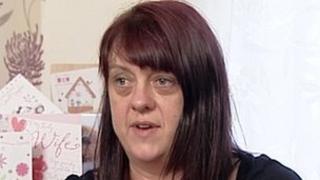 A woman who was given a hysterectomy while she was pregnant, has spoken of the lost opportunity of having a son.
Suzanne Doherty, 42, from St Mabyn, Cornwall, had the operation at the Royal Cornwall Hospital in 2007 while unaware she was 14 weeks pregnant.
Mrs Doherty, who has three daughters, said her pregnancy should not have been missed. The hospital trust has admitted liability and paid her £62,000.
Mrs Doherty said she had suffered from bouts of depression and lost her job.
She said she was in the hospital to be treated for a gynaecological condition.
'Suffering mentally'
"I was told the operation had been success but unfortunately a foetus had been discovered and that the foetus had been terminated.
"I was told with just the curtains pulled, so there were other people in the bay that heard what had happened.
"It shouldn't happen in this day and age. There are so many checks.
"It shouldn't get to the point where a pregnancy was missed," she said.
After going home Mrs Doherty said although physically well, mentally she was suffering, leading to "long bouts of quite bad depression".
She said: " I would go back to work and then I wouldn't be able to handle it and I would be off again, which ended with me having to lose my job.
"Knowing the fact that we've got three girls and we could have had a son, that was absolutely devastating.
"It has taken me a long time to get to the point where I have accepted what has happened, but it has taken five years."
'Errors acknowledged'
Mrs Doherty was given her pay-out in September, with the Royal Cornwall Hospitals Trust saying it would "not tolerate poor clinical practice".
Lezli Boswell, the trust's chief executive, wrote a personal letter of apology to Mrs Doherty.
Mrs Boswell said: "I am deeply sorry to hear about any anxiety, pain or distress caused to our patients."
Mrs Doherty said there had been a catalogue of errors.
"The money we can use for the children. But that's never going to bring my son back.
"The apology from the chief executive has made us feel they've acknowledged they've made serious errors," she said.