Philip Hygate: Annus horribilis of Isles of Scilly Council's chief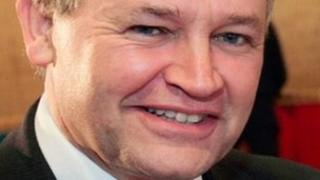 Philip Hygate had one main ambition - to become the current longest serving council chief executive in England.
With 20 years under his belt at the small but fiercely independent Council of the Isles of Scilly, and five years to retirement, he was well on his way to achieving that ambition.
But then came 2012 - his "annus horribilis" - and his surprisingly swift fall from grace in the paradise islands set in an azure sea.
Mr Hygate is leaving his job by "mutual agreement" and with a year's salary of more than £80,000. But he will be bitter.
His supporters point to the millions of pounds brought in to build a new school on St Mary's during his tenure.
Millions more are earmarked to improve the quay in the harbour on St Mary's and to bring the vital airport on the main island up to date.
'Climate of fear'
They say that was due to his forceful personality and that he had been a powerful force for good on the islands.
But Mr Hygate's detractors say there has been a "climate of fear", leading to the islands being branded "toxic" by a national newspaper.
They blame Mr Hygate, though he has always strongly rejected the idea that the "climate of fear" was anything to do with him.
At the start of 2012, Philip Hygate seemed secure in his post despite the rumours of people too frightened to speak out in case they lost their job with the council, or lost out on a vital contract with the council.
But then came May and the suspension of the head teacher of the Five Islands School, Bryce Wilby.
Mr Hygate was accused of taking too forceful a role in the suspension, though he insists he only did his job as chief officer in advising the school's governors of their legal options.
This was the start of his problems with the chairman of the council, Mike Hicks.
Mr Hicks angrily declared he had not been kept properly informed by the chief executive.
Over the summer and the autumn, the chairman repeated the accusation of being kept out of the loop when there were major hiccoughs over the report into the allegations about the conduct of the head teacher, all of which Mr Wilby denied.
Finally, in October, Mr Hicks could take no more.
In a short but awkward meeting, he informed the chief executive that their working relationship had broken down irretrievably.
Mr Hygate was stunned, insisting that they could continue to work together.
'Neutrally suspended'
But he was summoned to a meeting of the council's Policy and Recourses Committee which handles personnel matters.
His lawyer Peter Keith-Lucas insisted that the committee had no power to decide whether or not to suspend his client.
That role, he said, lay properly with the full council. He claimed they would be breaking the law if they went ahead.
Councillors disagreed and, after a long and heated debate, Mr Hygate was "neutrally suspended" on full pay.
The idea was to appoint a costly independent investigator to look into the chairman's allegations and to see whether disciplinary action should or should not be taken.
But that never happened. Instead, intense negotiations followed and a deal was struck. Mr Hygate leaves his job by "mutual agreement" and with a golden goodbye.
What of his legacy? There is no doubt his supporters will gaze fondly on the bright new school and other projects around the islands and regret his passing.
His opponents though say they will be hoping for a new era of open government with an end to the "climate of fear" they say prevailed for too long.
But the real legacy might be less independence for the council.
Eric Pickles, the Secretary of State for Communities and Local Government, likes to see councils cut costs by sharing chief executives.
And he may take this opportunity to insist Scilly merges its chief executive's job with that of neighbouring Cornwall Council.