Waterlogged runway closes Land's End Airport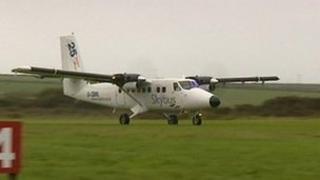 Land's End Airport in Cornwall has been closed due to a waterlogged runway.
Skybus, which provides flights from the airport to the Isles of Scilly as well as scenic flights, said it had closed following torrential rain.
The company said all passengers had been informed and were being transported to Newquay Airport.
The condition of the runway is due to be reviewed on Monday. There are no flights scheduled for Sunday.
The grass runway was reopened last weekend after being closed for more than a week following heavy rain earlier in the month.