Celebrity doodles raise £2,000 for Cornwall Wildlife Trust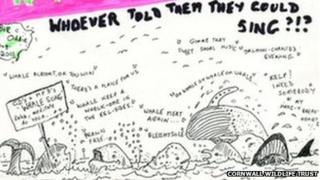 An auction of celebrity doodles has raised more than £2,000 for a Cornish charity.
The Cornwall Wildlife Trust auctioned 30 works by celebrities, including Joanna Lumley and Ben Ainslie, as part of its 50th anniversary.
Bill Oddie's doodle of singing whales went for the highest amount at £200.
Cornwall Wildlife Trust said it was "thrilled" with the amount raised, although it had hoped to raised more than £5,000.
More than £117 was paid for a doodle by Warhorse author Michael Morpurgo which included the comment "now you see why I only doodle writing".