Race starts in west Cornwall to save rare wild macaws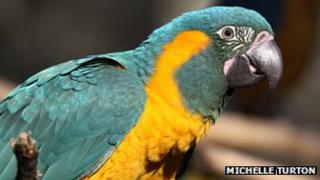 At a bird park in west Cornwall, a family of blue-throated macaws are permanent residents, which have thrived thanks to a breeding programme.
It is a different story 6,000 miles away (9,660 km) in the macaw's home of Bolivia, where only about 130 survive.
The World Parrot Trust, in Hayle, has launched a campaign to save the bird and other endangered species.
Campaigners hope to eliminate threats to wild populations such as the illegal bird trade.
'Many in captivity'
Alison Hales, the director of Paradise Park and the chair of the World Parrot Trust, said: "The blue-throated macaw is the rarest, very low-numbered. One of the problems is they can't always find a mate, as they are spread over a wide area.
"One of the biggest reasons they have been captured from the wild for several decades. There are many more in captivity in America and Europe than there are in the wild."
According to the trust, yellow-crested cockatoos are also critically endangered in Indonesia, with fewer than 1,000 individuals remaining.
The great green macaw is also struggling in the wild in central America, with fewer than 25 breeding pairs in Costa Rica, and only about 40 birds in Ecuador.
Mrs Hales said: "The great green macaw has a problem with nesting as the big trees are being cut down and they need to make big nests."
The trust said money raised would be used to protect wild nests, feed underweight wild chicks, increase nest site availability and release captive-raised birds.
Mauritius success
The latter is something that the trust is considering and, if it was to go ahead, it would not be the first time the organisation has seen big success in that field.
"The very first species the trust helped was the echo parakeet in Mauritius," Mrs Hales said. "The parakeet was down to just seven individuals.
"It's taken a very long time, but the numbers have crept up, and now it has reached 500 individuals."
The trust is hopeful of further success with its latest campaign, but Mrs Hales said it could take several years to complete.
Fundraising for the campaign to save the three threatened breeds has been given a boost with some of the trust's partners saying they will match any donations made by the public.