Cornwall petrol tanker crash: 'Environmental disaster averted'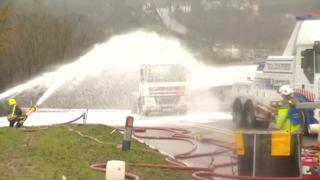 A river containing spawning salmon was left under threat of a "major environmental disaster" after a petrol tanker overturned in Cornwall.
The Environment Agency used booms and absorbent pads to prevent fuel from leaking into the River Tiddy after the crash on the A38 near Tideford.
There were fears about 4,000 litres of petrol could leak into the river as a result of Thursday evening's accident.
But the agency said checks had revealed "no significant pollution".
It said there was "little evidence" of petrol in the river.
'Fuel pouring out'
Spokesman Steve Marks said: "If the petrol had got into the water it would have been a major environmental disaster."
The agency said it was a "vulnerable time of year" because fish would be coming into the river to spawn and lay eggs.
As a precaution the booms will remain in place over the weekend, but the agency said it was "very pleased a serious incident had been averted".
Darren Maynard of Cornwall Fire and Rescue Service said: "The fuel was pouring out last night.
"If someone had come round the corner and collided with the tanker it could have been a lot worse."
The tanker overturned as it was being towed at about 19:00 GMT on Thursday.
Firefighters doused the tanker in foam to make it safe before it was removed from the scene.
The Highways Agency is examining the road surface for damage.
Gary Parsons of the agency said about 600m of road had to be resurfaced.
The road between Trerulefoot roundabout and Carkeel roundabout in Saltash was closed for 20 hours and re-opened at about 15:00 GMT on Friday.
Devon and Cornwall Police said the road could be closed again or traffic lights put in place from 20:00 on Friday for it to be resurfaced.