Camelford Leisure Centre handed over to community-run company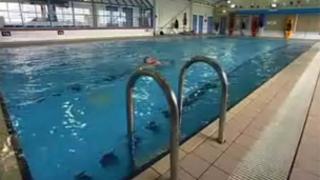 A leisure centre, which was run by Cornwall Council, has been formally handed over to a new community company.
Camelford Leisure Centre Limited was set up by local people to safeguard the future of the facility in north Cornwall.
The centre will fully reopen after maintenance work on the pool has been completed.
Cornwall Council is guaranteeing £30,000 a year for the next two years to support the project.
The sports hall facility will remain open during the maintenance work.
Two years ago, the leisure centre, based at Sir James Smith school in Camelford, was losing money.
A spokesman from the leisure centre said about 80,000 people now used the facilities annually, including seven schools in north Cornwall.