Bude sea pool membership group set up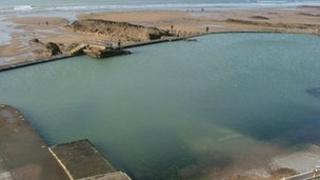 Supporters of a sea pool in Cornwall have started a membership scheme to safeguard its future.
Friends of Bude Sea Pool hopes to raise funds for the tidal pool's structural renovation and running costs.
The group wants to attract 4,000 people, who would each pay a £10 annual membership.
The sea pool was created in the 1930s and is used by local residents and holidaymakers. Cornwall Council passed control of it to the group in March.
Paul Tilzey, chair of the group, said: "As children we played, jumped, dived and swam, with no restrictions, in the safe confines of the pool and it is only right that we should allow our children, and children for generations to come the privilege of using the facility."