Flood clean-up bill more than £3m Cornwall Council warns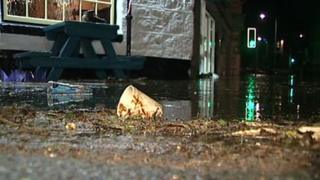 The bill for cleaning up flood damage in Cornwall last month could be more than £3m, the local authority has estimated.
About 250 properties across the county were flooded in November.
Cornwall Council said assessments of the highway network, public spaces and public rights of way have highlighted damage to roads, bridges and footpaths.
It has warned people to prepare for more flooding after a Met Office warning of heavy rain and strong winds.
The council said the rain and gale-force winds predicted for Friday and Saturday would coincide with spring tides, raising concerns about localised flooding.
Sandbag supply
An emergency management team was "monitoring the situation closely", it said, with highways and environment staff and fire and rescue crews on standby to deal with any major problems.
It said people should be ready to protect their own properties and added that neither the council nor the Environment Agency had a statutory duty to provide sandbags.
"Anyone whose property is prone to flooding should ensure they have a supply of sandbags ready to protect their home or business should they need to," the local authority said in a statement.
Millbrook, Polperro, Helston, Newlyn and Perranporth were among many areas affected by heavy and prolonged rain last month.
Cornwall Fire and Rescue Service was called out to more than 300 incidents on 24 November.
A number of trees came down, while landslips closed roads and affected rail services.
The council's contractor Cormac has been carrying out emergency works since the floods hit and many more repairs have been scheduled over the coming months.
The council said after discussions with the Department for Communities and Local Government, it would be applying for funding from the government's emergency grant Bellwin Scheme to help recoup some of the costs.