Jack Kemp and Peter Petrauske jailed for 'ritualistic' sex abuse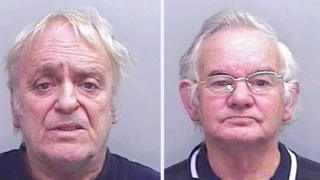 Two men have been jailed for carrying out "ritualistic" sex abuse of girls as part of a witches' coven.
Peter Petrauske, 72, and Jack Kemp, 69, both of Falmouth, Cornwall, had denied multiple sexual assaults involving children.
Truro Crown Court heard the victims could have been as young as three-years-old.
Petrauske was jailed for 18 years and Kemp for 14 years for the abuse which dated back to the 1970s
Kemp was also found guilty of more recent sexual assaults unconnected to Petrauske, the court heard.
Petrauske was convicted of one count of rape, one count of aiding and abetting an attempt to rape and one count of indecent assault.
Kemp was found guilty of indecent assault and indecency with a child.
He was found not guilty of four other offences.
'Sickening abuse'
Judge Graham Cottle said: "The offences range from the extremely serious to the truly horrifying.
"You are two of the surviving members of a paedophile ring, together with others whose names have repeated frequently in this trial who were members of a ring that operated in Falmouth in the 1970s and 1980s.
"I'm satisfied that you have both had a life-long sexual interest in young, female children."
He added that the trial had featured "ritualistic, sickening abuse of young, young children".
Petrauske, of no fixed abode, and Kemp, of Grenville Road in Falmouth, were said to have worn ceremonial robes and had pagan paraphernalia when they abused girls in Cornwall during the 1970s.
Petrauske described himself as the high priest of a white witches' coven in St Ives, west Cornwall.
Female members of the coven backed him and said that while children were occasionally present, nudity never played a part in the ceremonies.
One female friend also described him as "a gentleman".
Kemp denied any involvement in paganism, saying it "wasn't his cup of tea", and said he was the victim of a bizarre conspiracy.
He said the girls were wrong to name him in the case.
'Worst abuse seen'
The men's victims gave evidence from behind a screen during the three-week trial.
They said they were abused by their tormentors, before being given money and sweets to keep quiet.
Judge Cottle said: "The scars left [on two victims] are so obvious that it would seem extremely unlikely that either of them have any real prospect of recovery.
"Finally, the truth about your lies and your undoubted propensities has caught up with you."
Detective Constable Rick Milburn said: "It was truly horrific abuse, the worst my officers and myself have ever seen. It was truly distressing for everyone involved.
"The only way to describe what these victims have been through is that it has destroyed their lives."