Cornwall council staff 'uncertainty' over BT privatisation plan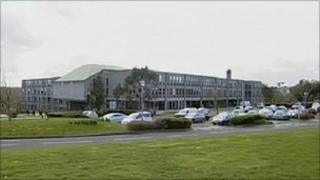 NHS and council staff in Cornwall are fearing for their jobs after part privatisation plans were approved, according to the union Unison.
A deal has been agreed with British Telecom to run IT, payroll and some administration services to save money.
Unison said the move has left staff with a "feeling of uncertainty."
Conservative group leader, Councillor Fiona Ferguson said the deal would mean closer links with health services which "made a great deal of sense".
The move means hundreds of Cornwall Council and NHS staff will be transferred to the private company.
Members rejected an option of a full deal with BT to privatise various key services at a full council meeting.
'Out of the blue'
Alec Robertson was ousted as leader because of his support for the original scheme to run services like libraries and benefit payments.
The new deal that was agreed by councillors on Wednesday, known as BT light, would leave customer-facing services such as libraries under council control.
Christine Dayus, from Unison, said: "There's definitely a feeling of uncertainty.
"We've had no involvement whatever in the drafting of BT light. It came completely out of the blue. We would have expected to have been involved."
Councillor Fiona Ferguson, said £200m of the council's budget goes on health matters - therefore closer links with health services in Cornwall were needed and made sense.
Services that would be outsourced to BT include information technology, Telecare and Telehealth, payroll and employment support, invoice processing and document management.
Mrs Ferguson said: "I would expect there would be job losses. I don't know off-hand what kind of numbers we're talking about.
"BT has a non-compulsory redundancy policy, so that if you are made redundant you will be offered the ability to have another job with BT."
Mrs Dayus said industrial action would not be ruled out, but would be a "last resort."