Cornwall waste firm Cory faces missed collection fines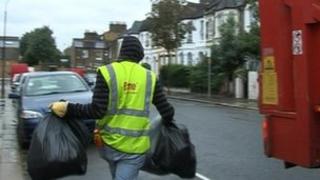 The firm which collects rubbish in Cornwall could be facing fines of up to £80,000 over missed collections.
When Cory Environmental Services took over waste collection services in April, Cornwall Council was inundated with calls about collection problems.
Between April and October, the council received 1,583 complaints.
It said in May that Cory would have to pay £50 for every logged complaint for missed collections and £100 for every repeat missed collection.
Issues 'drastically reduced'
The number of complaints was revealed following a Freedom of Information request by the BBC.
The council, however, declined to disclose information regarding a running total of penalty charges, saying that that could prejudice continuing discussions between itself and Cory.
The complaints recorded by the council were for all waste services including waste and recycling collections, street and beach cleaning services, recycling banks, recycling centres and waste disposal issues.
More complaints were received in April than in any other month.
The waste firm has an eight-year contract with the council, worth about £125m.
In a statement, Cory said: "After the huge changes to the refuse and recycling service across the county in April we are very pleased at how well it has now settled down and how well residents are using the recycling service, with an increase in recycling levels.
"The new service has performed well through the busy summer months with over 99.9% of collections being successfully completed on time and reported issues having been drastically reduced."