Western Greyhound and Cornwall Council bus subsidy deal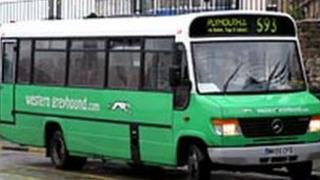 A private transport company is to be paid more by Cornwall Council for carrying concessionary passengers.
Rather than 50% of the normal fare it currently receives, a "complex" calculation approved by the Department for Transport will be used.
The deal will cost Cornwall's taxpayers £500,000 a year, but without it, the council said services may have stopped.
Western Greyhound said government cuts to public transport funding were affecting operators and passengers.
People who qualify for a concessionary bus pass include senior citizens, people with learning disabilities, those with sight and hearing impairments and people with certain medical conditions or physical disabilities.
Bert Biscoe, the council's transport spokesman, said there had been a "very significant risk" that without an increase in the subsidy, the coach company would have had to reduce or stop its services.
'Social engine oil'
Mr Biscoe would not say how much more the company would be paid per passenger, but he said it would total about £500,000 for the year.
He said: "I think it will have improved Western Greyhound's cash flow significantly at quite an important time."
Describing public transport providers as "the oil of Cornwall's social engine", Mr Biscoe said he was very pleased the matter had been resolved satisfactorily.
A joint statement said if Western Greyhound had ceased operations in Cornwall, it would have seriously impacted on people's lives and the deal showed the council's commitment to public transport.
"Without this agreement, public transport services on the Roseland and in many other areas would have been decimated," the statement said.