Extra pumps removed from Wheal Jane mine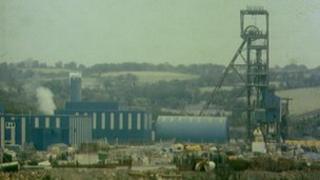 Two pumps brought in to help remove contaminated water from a disused mine in mid Cornwall have been removed, the fire service says.
Water levels began rising in Wheal Jane, near Baldhu, as a result of recent heavy rain.
Pumps already operate at the site, but two extra pumps were brought in because of flooding and fears untreated water could spill into a nearby river.
Levels were now manageable with onsite pumps, officials said.
'Very demanding'
The water from the mine was contaminated with a range of metals which, untreated, could impact on shellfish and other ecology in the Fal Estuary, the Environment Agency said.
Contaminated water has been abstracted and treated from the mine since 1992, following a drainage burst.
The onsite pumps could not cope with rising water levels because of recent weather, so two high-volume pumps - one from the fire service and one from the Coal Authority - were brought in to ensure water did not overflow and pollute the Carnon valley.
The work involved Cornwall Fire Service sinking the high-volume pumps 58m (190ft) down two mineshafts and pumping out water 24 hours a day, a first for its crews, the service said.
More than 60m litres (13m gallons) of water were pumped out in a week.
The water, the equivalent of 25 Olympic-sized swimming pools, was sent to a treatment plant on site at the rate of 6,000 litres a minute, the fire service added.
The fire service's pump was cleaned on the site to remove any contamination from acidic water and returned to normal use after what the service called a "very demanding exercise".
The Environment Agency said it was continuing to monitor the volume and water quality.
Water company Veolia, the Coal Authority and Cornwall Cornwall have also been involved in the operation.