Skybus Isles of Scilly flights to return to Land's End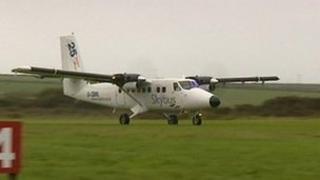 Flights between Cornwall and the Isles of Scilly are to return to Land's End from Monday, an airline operator says.
The Isles of Scilly Steam Ship Company's Skybus service has been flying from Newquay Airport since last week because of a waterlogged grass runway at Land's End Airport.
Managers said flights were moved because of "exceptional weather conditions", including heavy rain.
It added that most passengers had been able to catch the redirected flights.
Flights suspended
Operations manager Stuart Brint said: "I think, on the whole, everyone has been very patient."
Flights were suspended on 30 November because of the waterlogged runway. Further rain midweek halted plans to bring flights back to Land's End earlier.
Mr Brint said the decision was made to return services to Land's End after an inspection of the airfield on Friday.
The islands, which have a population of 2,200, have flights six days a week in good weather. A passenger ferry, the Scillonian, only runs in the summer.
British International Helicopters stopped its year-round service on 31 October after running into financial problems.