Viaduct killer Sarah Bullock loses sentence appeal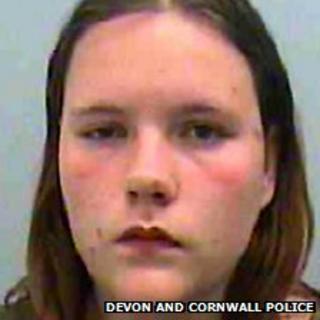 A woman who killed a man with learning difficulties when she was 16 has failed to have her 10-year sentence reduced.
Steven Hoskin, 38, of St Austell, Cornwall fell from a viaduct in 2006 after being tortured by Sarah Bullock, Darren Stewart and Martin Pollard.
At the High Court, Bullock's lawyers claimed her behaviour in custody had been "exceptional".
Mr Justice Mitting, however, said her behaviour was not exceptional enough to warrant a shorter sentence.
'Not perfect'
During the trial at Truro Crown Court in 2007, the jury was told Bullock was under the "malign influence" of her domineering boyfriend Stewart.
On the day Steven Hoskin died, he was beaten, forced to wear a dog collar and made to confess to being a paedophile before being taken to the viaduct and made to climb over the side.
Bullock then stamped on his hands causing him to fall more than 100ft (30m) to his death.
Freed from Stewart's influence, the High Court judge was told Bullock was now "very remorseful", her behaviour had changed and she had earned qualifications in computing, literacy, numeracy, hairdressing and horticulture.
But Mr Justice Mitting, who acknowledged Bullock has raised £370 for charity, said her disciplinary record was "good, but not perfect" and although her conduct behind bars was excellent, it was too early to describe it as "exceptional".
"That does not mean that it may not be satisfied in the future," he added.
Bullock and Stewart were convicted of murder and were sentenced to 10 years and 25 years respectively. Pollard was jailed for eight years for manslaughter.
Bullock will be eligible to apply for parole in June 2016.