Royal Cornwall Hospital patient gets £62,000 after unintended termination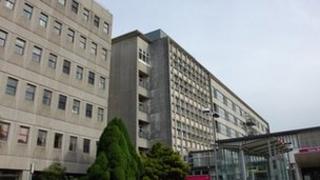 A women who suffered an unintended termination while undergoing a hysterectomy in Cornwall has been awarded compensation.
The woman was operated on at the Royal Cornwall Hospital (RCH) in 2007 and did not know she was pregnant.
The procedure was carried out despite the consultant noting that her uterus was abnormally large.
The woman was awarded £62,000 in September. The RCH Trust said it would "not tolerate poor clinical practice".
During the operation it was found the woman, who has not been named, was 14 weeks pregnant, but the continuation of the procedure resulted in the termination.
'Psychiatric injuries'
Solicitor Charlotte Skouby said: "Following the removal of our client's cervix a 14-week old foetus was discovered and the pregnancy diagnosed at which point, tragically, the pregnancy was no longer viable.
"The responsible NHS trust admitted the fact of the inadvertent termination and that the diagnosis of the pregnancy could and should have been made at the point when it was still viable, thus enabling our client to go on to term and deliver a much wanted baby boy."
Ms Skouby said her client and her husband had suffered "psychiatric injuries" as a result and, had they known of the pregnancy, they would have continued with it.
Lezli Boswell, chief executive of the RCHT, said: "I am deeply sorry to hear about any anxiety, pain or distress caused to our patients."
The hospital is currently investigating allegations of poor practice in the Gynaecological Department.
Rob Jones, who has removed his name from the medical register, is being investigated after a Royal College of Obstetricians and Gynaecologists report contained a number of serious concerns about the frequency of surgical complications during his procedures.
More than 1,500 women who saw Mr Jones as gynaecology outpatients are having their care reviewed.
The hospital is also looking into a "serious incident" relating to an unnamed obstetrics and gynaecology consultant who has had his or her practice restricted.