A30 section in Cornwall to be dualled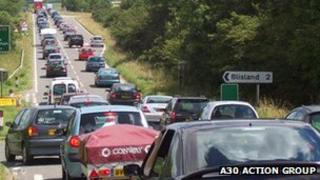 A bottleneck on the A30 trunk road in Cornwall is to be made into a dual carriageway.
The go-ahead for Cornwall Council to carry out the work on the 2.8 miles from Temple to Higher Carblake was announced by Chancellor George Osborne in his Autumn Statement.
The £60m cost will be shared between the Department for Transport and Cornwall Council.
It is hoped work will start in 2014 or 2015 and take a year.
Queues of up to nine miles have been common on the section during the peak tourist season.
Cornwall and Isles of Scilly Local Enterprise Partnership estimated that the local economy would benefit by more than £117m when the section is dualled.
Malcolm Bell, Head of Visit Cornwall, said: "Cornwall is Britain's number one holiday destination with over 4.5m visitors.
"As the majority of our visitors use the A30, this overdue improvement is very welcomed and will be critical to our continued success and growth."