Sapper Elijah Bond inquest hears fatal explosion 'was planned'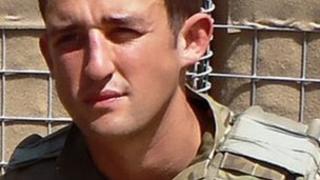 An Afghan army captain was aware of plans for an attack which killed a Cornish soldier in an explosion, an inquest has heard.
Sapper Elijah Bond, 24, was killed in Helmand province in December 2011 by an improvised explosive device (IED).
His inquest, in Bodmin, was told an Afghan National Army Captain said after the death that he knew insurgents were planning to attack the road.
The coroner recorded he was unlawfully killed while on active service.
'Low risk'
The inquest heard that Sapper Bond, of 35 Engineer Regiment, was travelling in a convoy of two Husky vehicles to take engineers to the site of a planned bridge when the explosion happened.
The operation had been considered "low risk" as the route had been regularly monitored, the inquest heard.
The IED went off under the vehicle in the Nahr-e Saraj area of Helmand province, causing him injury.
No explanation was given during the hearing as to why information about the proposed attack was not passed on.
The sapper, from Mevagissey, was airlifted to hospital in Birmingham but he injuries were described as "unsurvivable", the inquest heard.
He died after his life-support was turned off.