Skybus bosses 'work to minimise Scilly flights disruption'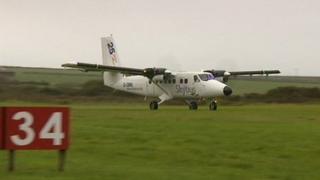 A company operating flights between Cornwall and the Isles of Scilly is doing all it can to minimise the impact the weather has had on services, managers say.
Land's End Airport is closed until Thursday because of a waterlogged grass runway, preventing Skybus flights.
Skybus operator, the Isles of Scilly Steam Ship Company, is flying from Newquay Airport in the meantime.
Company chief executive Jeff Marston said it was looking for solutions.
'Harder surface'
Skybus has transferred all flights to Newquay until 6 December.
Last week the company said it was looking at the possibility of giving the grass runway at Land's End airport a hard covering, and that a decision would be made "soon".
Managers said the move to Newquay would allow time for the Lands End grass runway to dry out.
Mr Marston said there were plans to have a temporary surface "using a form of plastic sheeting to help".
He added: "In the medium term, we're evaluating whether we need to move the airfield to a harder surface."
The islands, which have a population of 2,200, have aeroplane flights six days a week in good weather and a ferry, the Scillonian, which only runs in the summer.
A freight ferry runs to the islands every other day.
British International Helicopters (BIH) stopped its year-round service linking the islands and the mainland on 31 October after running into financial problems.
Residents have renewed their calls for a subsidised year-round ferry to operate to the mainland.
In October Transport Minister Norman Baker said the economy on Scilly was too strong at the moment to justify a transport subsidy, similar to the one provided to the Orkneys in Scotland.