Eye-gouge victim Tina Nash warns abuse victims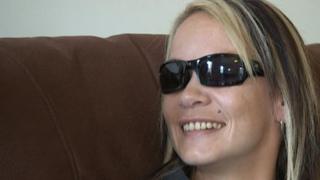 A woman blinded by her boyfriend when he gouged her eyes has warned other victims of domestic violence to "get out before it's too late".
Tina Nash was attacked by Shane Jenkin in their home in Hayle, Cornwall in April 2011. He was sentenced to life in a secure mental health unit.
Ms Nash said she was not aware she was a victim of domestic abuse until she was out of the relationship.
She said victims should never blame themselves.
'Extreme violence'
Jenkin, 33, imprisoned mother-of-two Ms Nash for 12 hours after the attack, which also resulted in her jaw being fractured and her nose broken.
He admitted inflicting grievous bodily harm and was given a life sentence with a minimum term of six years before he can be considered for parole in May.
The trial judge said the attack was one of "extreme violence with catastrophic consequences".
Ms Nash, 31, said that despite the fact she "left him numerous times" after assaults, she blamed herself for causing his violence.
She said: "You do blame yourself.
"You think you pushed them to that, you think: 'Perhaps I didn't say that right' or, 'Is it something I've done? Could I change?'.
She added she had also written a book to help others in the same position realise what danger they could be in, and to highlight that help was available.
"It's was so hard because I didn't understand domestic violence until it happened to me.
"It was only when I was out of the relationship that I realised I was a victim."
Ms Nash said that, since the attack, she had been working hard to get on with her life.
She said: "I believe that I'm a lot further on than I expected to be.
"I thought it would take five to seven years to get over this but, considering where I am now, I'm doing OK.
"I'm just like I was before, apart from I can't cook. I do miss that."