Methodist Charles Wesley cottage painting 'original'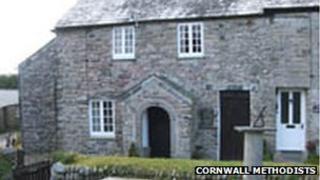 A painting of evangelist Charles Wesley in a cottage in Cornwall has been identified as an original painted by his daughter, Sarah.
The painting at Wesley Cottage in Trewint, near Launceston, was previously thought to be a copy.
Charles and his brother John, who founded the Methodist movement, preached from the cottage in the 1700s.
The Reverend Steve Wild said the painting's authenticity was established by the Royal Cornwall Museum.
Hymn writer
Mr Wild, chairman of Cornwall's Methodists, said the painting shows Charles Wesley in a wig with a walking stick in one hand and holding a tricorn hat in the other.
He said: "We always thought this was just a print - a copy - but we took it to the Royal Cornwall Museum and they had it for quite a few weeks and did all sorts of test on it and it is actually an original."
The value of the painting is not known.
Charles Wesley wrote and published thousands of hymns, including the Christmas carol "Hark the Herald Angels Sing" and "Love Divine, all Loves Excelling".