Cracks on Looe landslip road assessed by engineers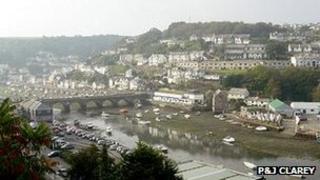 Cracks have appeared on one of two roads affected by landslips in Cornwall.
The landslips in Looe, believed to have been caused by days of heavy rain, blocked the A387 at Sandplace Road and the B3253 at St Martin's Hill.
Traffic light control at St Martin's Hill - the main route from Looe to Plymouth - is allowing single-file traffic through.
The cracks have appeared on the B3253 near the landslip.
"I was up there yesterday and you can see the cracks in the road, so it's single file traffic and yes, it's difficult," Looe Harbour Master Jeff Penhaligon, told BBC News.
Damage assessment
Rob Andrew, chair of the multi-agency flood recovery group, said with more rain forecast for Sunday and Monday, work was under way to prevent more even more damage.
"The cracks are being sealed and sandbags put over them to stop rain the water getting in and causing further problems," he said.
Cornwall Council has warned the temporary repairs which are being carried out could take several days to complete.
It said engineers were currently assessing the damage and when these investigations had been completed, work would begin to undertake permanent repairs and stabilise the roads.
This would be "carefully planned" to maintain local access and public transport, it added.