British Airways breaks fencing champion's wheelchair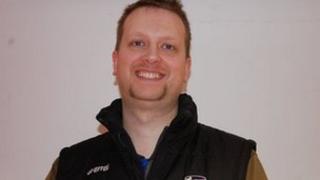 A national wheelchair fencing champion from Cornwall has claimed he could lose funding for the next Paralympics after an airline broke his chair.
Matthew Campbell-Hill, from Truro, has travelled to Hungary to compete at the World Cup this week, but said he may now not be able to take part.
It is "crucial" that he does well at the event in Budapest, so that he can secure funding for the next four years.
British Airways (BA) said it was trying to "rectify the problem".
Mr Campbell-Hill - recently crowned the British wheelchair fencing champion - has had to weld parts of his custom-built competition chair, as well as using heavy duty tape to hold it together.
"This will hopefully make it secure, but it does keep falling apart at the moment," he said.
It is now "a race against time" to see if he can get a replacement, and he has claimed that missing out will have "knock-on effects on his career".
In a statement, BA said it was "extremely sorry that Mr Campbell-Hill's wheelchair was damaged while in our care".
"We are talking to Mr Campbell-Hill to rectify the problem as soon as we can and will also reimburse him for any costs incurred due to the damage to his wheelchair."