St Ives parking spaces make £160K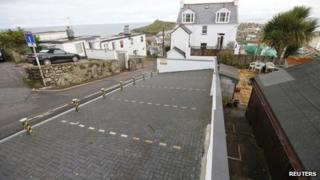 Three car parking spaces in the Cornish resort of St Ives have been sold at auction for a total of more than £160,000.
The spaces, measuring 20ft (6.1m) by 8ft (2.4m), were three of five such parking bays on Barnoon Terrace to go under the hammer.
The first sold for £55,000, while the other two fetched £56,000 and £50,000.
Two remaining parking bays attracted bids of £50,000 each, though this was not enough to match their reserves.
'Small price'
Their individual sales are expected to be agreed privately within the next 24 hours.
Chris Baxter, director of Bradleys estate agents, said the price for each of the lots showed the importance of a parking space in St Ives.
He said: "We are talking about an area where property is happily fetching £500,000 to £700,000 if not more.
"If you haven't got a car parking space, £50,000 is a small price to pay for that extra amenity."
Each open-air parking space, with views of Carbis Bay, was sold on condition that it must be used solely as a car park, with no scope for building.
The spaces were created from a former site of a garage and garden.
The town council objected to the change, which included the loss of a hedge, but was overturned by Cornwall Council.