Church of England school super-academy launches in Cornwall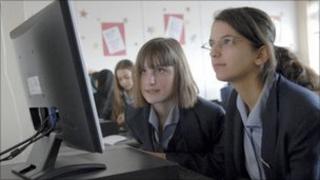 More than 700 school children and teachers are taking part in the launch of a new super-academy in Cornwall.
Five Church of England schools have formed the Saints Way Multi Academy Trust.
The new trust brings together the financial, resourcing and budgeting of four rural schools and one larger town school in the Bodmin area.
The move has been described as an opportunity to "work in a creative way" by the Diocese of Truro.
The schools involved in the new academy trust are St Mabyn and St Tudy near Wadebridge, Lerryn and St Winnow near Lostwithiel, and St Petroc's school in Bodmin.
Schools' identities retained
The 678 children and 137 staff will gather for the first time later, at St Petroc's Church in Bodmin, to officially launch the new multi-academy.
Stuart Renshaw, the head teacher at St Petroc's School in Bodmin, said: "It has taken just under a year of capturing the hearts and imagination of governors, staff and parents to build the foundations of working collaboratively as a group of five schools
"Right from the start there was a solemn commitment to ensure that each individual school would retain its own identity and ethos and will, to all intents and purposes, look and feel exactly at it did prior to the centralisation of its management."
An academy principal will be announced shortly, with each school retaining a head teacher.
Mr Renshaw said each school would also keep its own school uniform.
Sue Green, the Director of Education for the Diocese of Truro, said: "We have worked really closely with the schools to establish something new and exciting that seeks to serve each community and provide the very best for all the children.
"The five schools have embraced to opportunity to re-establish the Church's mission and work in a creative way."