Sir Tim Rice supports Truro Cathedral's choir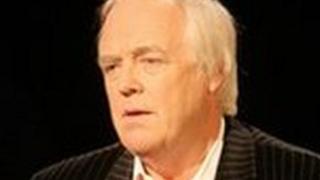 Sir Tim Rice is backing a fundraising campaign for Truro Cathedral's choir which is celebrating its 125th birthday.
The lyricist attended a concert which launched a new membership scheme to support both the choir and the cathedral.
Sir Tim, who has worked on hit musicals such as Chess and Evita, described the choir as being "particularly good".
The choir has performed on various shows including BBC1's Songs of Praise.
Christopher Gray, director of music at the cathedral, said: "Compared with other cathedrals, our music budget is one of the lowest in the UK.
"We manage to achieve something very special due to the local musical talent and overwhelming support of local worshippers and concert-goers."
The choir wants to recruit 125 people to become friends of Truro Cathedral Music.
To raise additional funds it is introducing another category of membership to recruit 125 patrons to the choir.
Both memberships come with a different level of subscription.
Sir Tim said: "Choral singing is such an important part of British tradition, church tradition.
"It's great for the children themselves. It's terrific to see the choristers learning all about music. And this lot are particularly good."
Truro Cathedral has had a choir of boys and men since it was consecrated in 1887.
Scholarships and bursaries are paid to enable boys from all backgrounds attend the choir's school, Polwhele House, where they rehearse before lessons each day.
Mr Gray said of the choir: "Be under no illusions; it is fragile and will only survive for future generations if people really want it to."